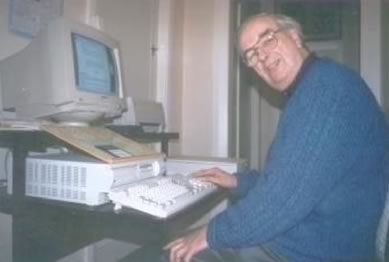 On Sunday November 29th 05, Mornington Methodist congregation took time in its morning service to pay tribute to the founder of this website, Rev Evan Lewis. Dunedin Methodist Parish gave Evan responsibility to set up a website in 1997, as a far-sighted means of evangelism and with only one criterion, that it be inclusive. By any standard, Evan has succeeded brilliantly, as witness the fact that he estimates the website receives upwards of 300 hits per month from surfers round the world, and features prominently when internet-savvy Christians identify sites that provide a liberal and open perspective on theological issues, but from a main stream source where "church" is taken seriously.
Both as a way of honouring Evan, and as a means of informing enquirers about the value placed on this site by some of our parishioners, we reprint here some of the tributes paid to Evan at the service ( above), including Evan's own statement, and my own thoughts about taking over Evan's role.
Ken Russell Editor/Pagekeeper

From Evan himself , The story of the Parish Website
Beginning
About ten years ago my son made an effort to get me interested in the internet. "You can get any information you want from the web", he said. Decide on your topic. It's easy to look for it. I was a bit sceptical - doubtful, for one thing, about the quality of the information people might have put up. Better to buy recommended books. He arranged for me to go to a friend's house and see how it all worked.
I thought up a rather obscure topic as a challenge, and said try "Ugarit". Ugarit was the ancient name of an archaeological site that is important for the understanding of the origins of Old Testament religion. No problem! The system suggested a number of pages which obviously gave good information. I guess I was convinced. (Incidentally, yesterday I tried this again, searching for "Ugarit" combined with "archaeology". In a quarter of a second I was told of about 58000 relevant pages and offered a few of what seemed to be the most interesting.)
It was not long after that first experience that I upgraded my computer to something that would be efficient in exploring the web.
Also, about ten years ago, our Parish Council created a committee to explore the means of improving our communication with a wider community. That committee looked at various advertising media, but was a bit deterred, I think, by cost implications. But you may remember the calendars we printed two years running, to hand out free around the city, and hopefully to draw attention to ourselves. It was for that effort that we worked out our parish slogan "Finding good in everyone, finding God in everyone". We also produced a 'what we believe' statement. And it was in that group that I found that more than one member was thinking we might do well to establish a web site for the parish. I was entrusted with the task of working this up - with the help of a support group.
Is there anything special about us?
It is estimated that there are more than 10 million web sites in existence. Web sites are divided into pages. Perhaps there is an average of 100 pages per site (ours has 300 pages). That would mean a billion or more pages. A lot of web sites are rather boring - including many Christian web sites. Why would anyone specially want to look at ours amongst all those millions? Well they do.
There is a number at the bottom of our home page that registers the number of visits people have made to us. At the moment this stands at just over 20,000. We have been going for 100 months, so that averages out at 200 per month. In fact monthly visits at the moment are closer to 300, or perhaps nine a day. It is my impression that most of those visits are from people beyond New Zealand, especially in North America. We speak, indeed, to the world. If we count the number of people who visit our site every week it looks as though we double the number of our visible Mornington congregation.
Sometimes people send us emails to tell us they appreciate us. For instance ...
from Howard Goodall......

Contributors
I think we attract readers because we have interesting contributors who are creative, and free to express themselves. And we show that we care about things other people care about too. Numerous people from our own parish, and quite a number from beyond have provided material.
When people arrive at our home page they find that there is plenty to explore under a dozen or so section headings.
Faith, hope love
Material from Colin, Donald, our Communications Group's published booklet "Faithful and Free" (which David Bromell helped us to shape up); David Lange's address at the university, Ian Harris's recent contribution, etc etc.
Reading the Bible
I myself had quite a bit to do with some of these items, but there were other contributors as well.
We believe ...
The statement the parish communications committee came up with.
Gay and lesbian issues
Euan Thomson; a number of Glenaven contributors, and some of the people already mentioned.
Justice
Bishop Penny Jamieson was happy for us to reproduce several of her ODT items.
And there is lots more from different people. Prayers and liturgy ...... Personal stories ...... Methodism ...... New songs and hymns ...... Our parish and its congregations …… The Mission.
We do have a real, appreciated ministry, through our parish web site. I am very pleased it is going to continue.

From Colin Gibson - Emeritus Professor Music Director and Hymn Writer
Evan, I am very sorry that I can't be present this morning to share in the tributes to your wonderful work as webmaster—is that the right term?—for the Dunedin Methodist website. But it's all your own fault.
I have been asked to go to the barbarians of the far north (I mean Auckland) to talk about the importance of story in worship—and in particular the teaching stories of the Sufi and the Hasidim masters, from the Islamic and Jewish faiths.
And who first introduced me (and the rest of the congregation to these wonderful stories? Why, Evan Lewis. It seems that you have always led us into new learning; you are a real pioneer in the faith.
It was your insight—well ahead of most of us, as usual—that the internet could offer a new kind of evangelism. One that didn't depend on knocking on doors or slipping pamphlets into letter boxes. One that would give us here in little, far away Dunedin the capacity to speak to the world about our faith and our values.
You organised the whole enterprise almost single-handedly, and managed it from your own home. You brought to bear on the website your own revolutionary theological vision, your delight in creativity, and your determination that here would be a voice for the liberal, open and inclusive church; and you brought your orderly mind and your keen artistic sense to organising and displaying the material on the site.
The result is a website that matches the highest international standards; one that regularly attracts visits ('hits' I think you call them) from overseas as well as throughout New Zealand. Though I bet you will never show them—simply because you are one of the most truly humble and modest people I have ever met—I know that you have received dozens of tributes to the quality of the site and the interest of its contents. I know that, because I have seen some of them.
I thank you for quietly badgering me to provide copies of new hymns and sermons to go on the website. I have now met many overseas friends who have told that their first acquaintance with my music was on the site you have managed for so many years.
I know that the website will be in good hands for the future; but it was you who founded it and brought it to its present peak. Thank you for being our resident prophet, our practical man of action, and our teacher in this area as in many others. Your beloved Sufi masters would be proud of you, and I reckon that John Wesley—that man of vigorous, practical action—is applauding what you have done, too.
From Trish Patrick - Workplace Chaplain and Recent member
On the occasion of this churches 125th anniversary I said that we had found the church to be welcoming, inclusive & reconciling. A place where we could encounter God, and be enriched by the fellowship and friendship of the congregation.
A congregation steeped inthe richness of its Methodist tradition , grounded in gospel values expressed in faithful preaching, meaningful liturgy, and beautiful music,both contemporary and traditional. But perhaps most significantly, in the people themselves, a more eclectic and interesting bunch one would be hard pressed to find in any other church.
It could be said, that then, we were in the "honeymoon" phase of our connection to this congregation. You know, a time when everything seems idyllic and new and ultra meaningful. We were seeing everything and everyone through rose coloured spectacles.
But I have to say that, several years on, our opinion has not changed. This does not mean that we see every thing as perfect. No human institution is, even if it is God-centred. Not only is everyones perception of God different, but so is everyones perception of
what the institution should be. Harmonising those percptions is an ongoing challenge.

But this sacred space is still for us, a place where we encounter God, not just in the preaching the sacaments and the liturgy, but predominantly in the people . A people whose incarnational faith is expressed in loving & practical ways, yet is never intrusive.
For myself, I greatly appreciate the genuine interest and support with which you surround
me. Industrial chaplaincy is a very solitary business and I can feel very much alone.
Your interest and support have played an important part in the fact that I continue in my
role as a chaplain.
We both appreciate and revel in the luxury of a church that actively encourages the
exploration of faith issues. This church is not threatened by its people asking the hard questions. Indeed they are welcomed. Even to the extent that these issues are put on the
website for all to see and comment on.
To us, this speaks of a church that values the personal and communal spiritual journeys
of its people, even when those journeys look a bit bumpy and the signposts few and far
between.
I could go on but I wont, except to say we still enjoy worshipping amongst the bunch of
random journiers which forms the Mornington Methodist church.

From Norman West - a former minister
Through the Practical Dreamers Drop in Centre a great gift to the whole Church has been made by Evan Lewis, who spent months researching a style for a good Dunedin Methodist Website. He has maintained a quality site of interesting, responsible liberal theological and critical thinking as well as a rich treasure of resources. Thanks for all you have gifted us Evan.
From Ken Russell
It was several months ago that it was suggested I might succeed Evan as Pagekeeper - or whatever the appropriate word may be - editor, custodian, webmaster - and without thinking too much of what that might mean, I said "Yes, possibly." It seems that in the vocabulary of Dunedin Parish "possibly" is near enough to "yes" and from that time it has been assumed I would be it.
Further reflection, and a more in-depth reading of what we have on the site already, soon persuaded me that if the website is to grow at anything like the rate, and with the quality, that it has done since Evan kicked it off in 1997, something more than a casual acquaintance with the wide range of faith-related issues Evan has encompassed as Pagekeeper was going to be required of me. Furthermore it became very obvious to me that I needed to make a distinction that Evan to his credit had never made - the distinction between Webmaster and Pagekeeper. The latter maybe I can do reasonably well - the former, no way.
By the grace of God a young man, Blair Hughson, was recommended as someone with all the technical skills necessary, and when I rang him and told him my own experience with computers he left no doubt . . . no way, Ken, he said, you just don't have what the job would take. Well, at least that was refreshingly honesty. And then he made music in my ears - yes, I'll be the webmaster. So that's where we are at this time, and between us, Blair and I are ready to go. Problem solved!!!
Well not at all. If we as a Parish are to capitalise on the fabulous work that Evan has done, we are going to have to keep renewing the site with the good quality input that has marked the time when Evan has been in charge.
If you look at the homepage of PRACTICAL DREAMERS DROP-IN CENTRE you'll see a section headed SITE INDEX
- just look at the range of contributors, and the breadth of the subject matter - and with few exceptions that material has come from people within our own faith community, or from people like former Bishop Penny Jamieson whose columns in the ODT were seen to represent a viewpoint that carried much support from Dunedin Methodists.
Also, I observe that including Bishop Penny, the lions share of contributed material comes from Colin Gibson ( 21 new hymns and songs and 33 sermons or writings or stories) - Donald Phillipps ( 11 mainly historical writings) and from Evan himself ( 17 articles notable for their interesting and scholarly approach to the Bible narrative - "encouraging dialogue with our biblical heritage" as Evan himself puts it.) Now I trust that none of these three voices are going to be silent in the future, but clearly, if Practical Dreamers Drop-In Centre is going to continue on behalf of this Parish to be a fresh, inclusive, innovative and challenging witness to the huge world wide web audience, it is going to be necessary for the people of the Parish to think creatively, write provocatively, dream imaginatively and share liberally of the their faith treasures with the same liberality in the future as they have done in the past.
And neither is it a case of us being so desperate for material that just about anything that comes in will be sent straight out on to the internet. Of course not, but our scope is wide. Perhaps this is a good time for us to recall that Evan was given a wide brief from the Parish, a brief wide enough and inclusive enough to be summed up in that marvelously descriptive Parish motto
Finding good in everyone. Finding God in everyone.
Personally I am content for that to be the criteria that will continue to move us in building up a site which, whether we all see it that way, or not, will in my view, and the view of others, continue to be Dunedin Methodist Parish's most effective evangelism project, more effective to more people than all the sermons preached from this pulpit, and all the letters and articles that some of us might be moved to write.
Regardless, the purpose of taking this time in this service is to pay tribute to one who has pioneered a good work among us. This we should do most warmly, and together determine that the work goes on.