Text Size


Sunday Service Times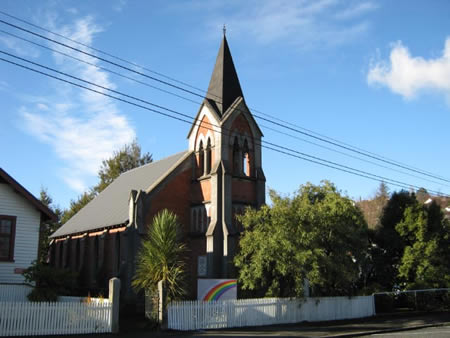 About Us
Glenaven Church is in Chambers Street, off North Road, in Dunedin's North East Valley. The church building is an attractive one, built over 100 years ago and modernised in recent years in the interior so as to provide a flexible worship area with individual seats rather than fixed pews.
During the week the church and the adjacent hall are used by a Montessori pre-school.
Services are held each Sunday at 11am, preceded by morning tea/coffee from 10.30am.
The congregation is a small one, and is distinctive by reason of the fact that it was one of the first churches in Aotearoa/New Zealand to declare itself a Reconciling Congregation. This means that it is committed to welcoming and including gay and lesbian people in all aspects of their life. You'll see the rainbow sign outside the church on the street frontage.
Our services are conducted in a friendly, informal style, but following a regular liturgical pattern. Our theological stance is described as "liberal" or "progressive". The congregation is invited to respond in discussion after the sermon. EVERYONE is welcome at Glenaven.
Services
Sunday worship 11.00am every Sunday.
Location
Glenaven Methodist Church is in Chambers Street, North Dunedin.
Contact Us
For more information, please contact us.