Text Size


Sunday Service Times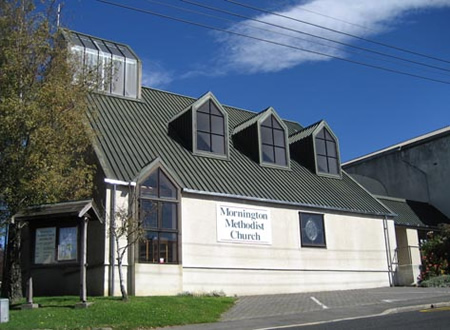 Who Are We?
We are a community of Christians, mainly from the Methodist tradition, who enjoy meeting together and worshipping God within an open theology. We are an inclusive, reconciling congregation that is non-judgmental, and that is accepting of all people irrespective of age, gender, race or sexuality. We enjoy contemporary artwork in our modern church and joining together in contemporary music much of which has been composed by our organist and choir master Colin Gibson.
What Do We Do?
We worship in the church each Sunday 9.30 -10.30 am. The worship is enriched by the choir and the use of audiovisuals.
There is a Women's Fellowship group that meets in the afternoon of the last Wednesday of each month. The Explorers Group meets on the last Sunday of each month to discuss theology from a liberal or "progressive" perspective. We participate in the Dunedin Methodist Parish Continuing Education Programme.
Our premises are used by the Mornington Toy and Games Library, the Ren-Shu-Den Judo Club, and the Steady-as-you-go exercise class. The Dunedin Music Society and many Dunedin music teachers use our facilities for concerts and examinations.
Services
Sunday worship, 9.30 am every Sunday.
Location
Mornington Methodist Church is on the corner of Galloway and Whitby Streets, Mornington, Dunedin.
Contact Us
For more information, please contact us.